10 May 2007
School user is able to check the current SMS version runs by the school on the Index Page of the SMS System as shown in highlighted box in Screen 1.
Screen 1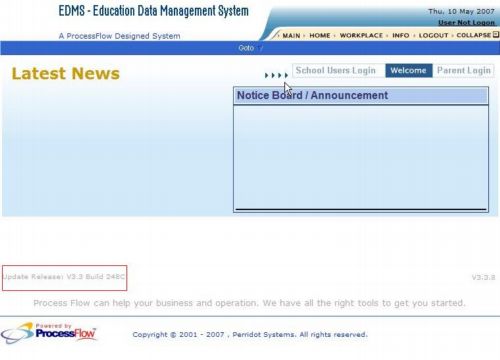 For those schools that have internet access, SMS index page will have RSS news feed from the latest patch indicator. The latest patch/build number of the SMS system shall be displayed in highlighted box as shown in Screen 2 . School user is advised to apply the SMS version update continuing from the current SMS version till the latest patch / build in sequential order. Besides that, system were also enhanced to provide new page on highlight embedded in application Info Page whereby the info tab has a navigation bar by providing latest RSS feed on SMS Release upgrade page. Please refer to the screen 3.
To apply the version update, please go to System Administration ~> Version Update.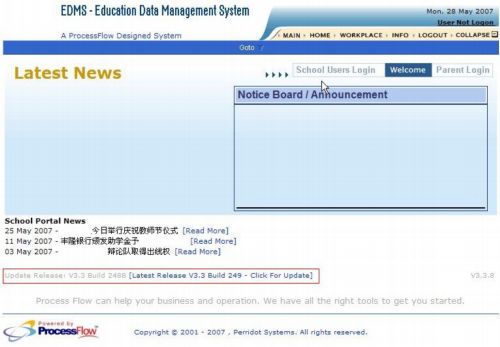 Screen 3
a.  Pleas take note that this is only possible for those schools with servers on the net. Choose"Release Highlights" to redirect to embedded for SMS Version Release page.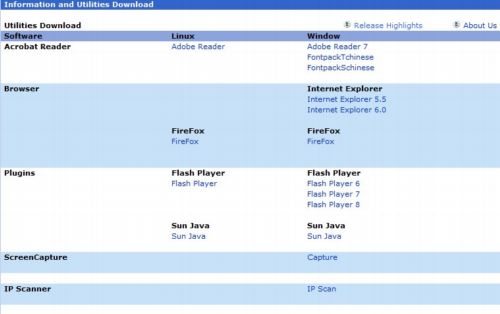 b. We'd embedded the latest 5 releases highlights in Application Info page. Click on the SMS Release version no to obtain details for upgrade releases.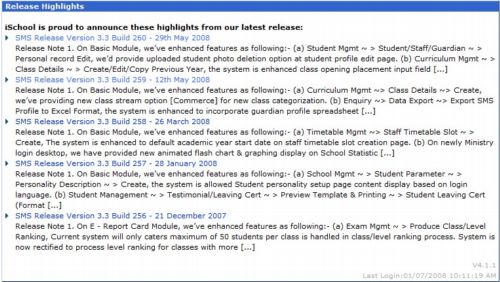 It is important to take note that the latest patch information will not be displayed when the SMS version currently runs by the school is the latest.
RSS feed for comments on this post