26 Jul 2010
Release Note
1. On SMS Basic Module, we'd enhanced the features as following:-
a. School Mgmt ~ > School Profile ~ > Edit, we'd provide latest bank list which can be found in Malaysia at school profile database.
b. Workplace ~ > Student Absent List, system is enhance to allow the listing for column sort by Class and Name in Alpha ordering.
c. Enquiry ~ > Student information, we'd enforce checking on exam result to be publish for viewing on the Report Card Tab with reference to the eReport Card's examination schedule's result release date for the particular examination. Meaning system should not display the examination link on the profile if the examination release date is still a future date.
d. Student Mgmt ~ > Personal Record ~ > Create / edit, system to add in Radio button option for user to propagate the Student Address maintenance to all the guardian's profile that are linked to the student.
e. Student Mgmt ~ > Leaving Certificate and Testimoninal ~ > Preview Template & Printing, all the testimonial & leaving cert is enhanced to add in notes on "maximum number of characters allow for input" on Remarks and Comment fields at the input screen before printing for user info.
f. Student Mgmt ~ > Testimonial & Leaving Certificate ~ > Printing Setup, Print labeling and parameter content should be following the first language as set in the printing setup option.
g. Student Mgmt ~ > Leaving Cert/Testimonial ~ > Preview Template & Printing ~ > School Leaving Cert Format 5 – to allow for the printing date to be maintainable and save for re-print.
h. Enquiry ~ > Data export – Export profile to text format, on our export features, system had already cater for Previous Class Info as a selection field based on the academic year for export in TEXT file format.
i. Student Mgmt ~ > Change Class ~ > Multiple/Single Change class option, System to auto de-enroll student's subject from the current class and auto enroll to all the subjects for the new class as maintained in the class timetable.
2. On SMS E – Report Card Module, we'd enhanced the features as following:-
a. Exam Mgmt ~ > Mark Input Upload, this is a new option to allow for Exam marks upload using the template downloaded from the system and take note that Examination Marks input template in CVS file format shall limit the subject column downloaded to be base on
i) Subject teacher only download those subject he/she teaches in the class
ii) Class/Form Teacher/level teacher and exam committee can download for all the subjects taken by student in the class
b. Enquiry ~ > Level/Class Ranking Monitoring, New feature on Principal and school admin desktop for monitoring on Class/level ranking status.Features also available at Principal & Admin desktop.
3. On Co – curriculum Assessment we'd enhanced the features as following:-
a. Form & Report ~ > Co-curriculum certificate ~ > format 2, to enable maintenance of marks field on the web-print screen, if the marks computed is 0 due to transfer-in student without historic co-curriculum records maintain in SMS.
b. Activity Records ~ > Student ~ > by Class/Activity ~ > Delete, to enhancement Student activity deletion option (both by student or by class), system to alert user if there is attendance taken period from the start of the student activity to end the student activity with Javascript pop-up screen for use to acknowledge and confirm to delete the activity together with the student's attendance record for the particular activities. At the same time, request to default student activity start and end date by calendar start and end date.
c. Enquiry ~ > Student Activity Attendance ~ > Attendance Statistic, to cater for inconsistency display of student activity attendance reported in Yearly Assessment Report with Activity Attendance Statistic enquiry screen.
d. Assessment ~ > Mark Input ~ > Participation/Involvement and Achievement ~ > by Group, to extent input screen to allow for 15 records per page instead of currently 5 records per page
e. Enquiry ~ > Student without activity listing, to open up co-curriculum type as optional field to enable listing of student without joining any activity.
f. Enquiry ~ > Student Activity Attendance ~ > Student Activity Attendance Listing, new option Co-curriculum Student Activity Attendance – Enquiry with data export features for student attendance.
4. On Library Mgmt Module we'd enhanced the features as following:-
a. Circulation ~ > Circulation ~ > Return, we'd enhanced the features as following:-
i)  To fixed the cursor to barcode field after scanning Membership ID
ii)  To auto set the cursor to the next barcode after scanning
b. Bibliography ~ > Bibliography detail Export, to add in "Author" field as a export criteria.
c. Library Mgmt ~ > General Setting, to build in option for use to include or exclude weekend charging on overdue fine.
Click here to download SMS Release Version 4.1 Build 282
Comments Off

on SMS Release Version 4.1 Build 282 – 26th July 2010
Filed under: Releases
26 Feb 2008
This problem arises is due to setting of Tools ~ > Internet option for IE Browser advance setting tab "Show Picture" & "Print background color and images" is turn off, therefore you won't be able to view the barcode line picture. Please turn on the setting as per attached print screen.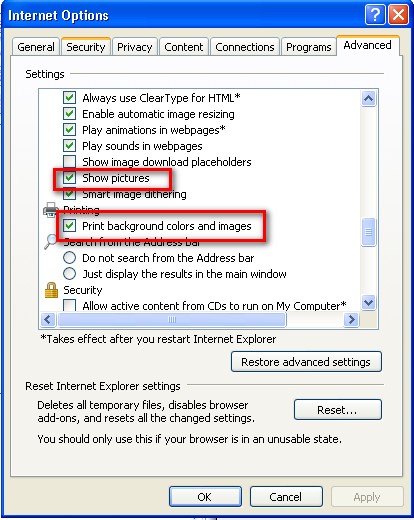 Comments Off

on Why the barcode line for library books cannot be printed?
Filed under: Library