4 Jan 2010
SMS Data Export to SMM function has been enhanced to allow exported SMS  student data  to be imported into both SMM3.02 and SMM4.0 file format. This will reduce  duplicated data entry for student basic information.
Followings are the illustrated steps on how to export SMS student data from iSchool SMS and import into SMM4.0.
Step 1 – Export SMS Data to SMM4.0 File Format
SMS data can be exported to SMM4.0 file format via 2 modules ie either SMS Basic or SMMWeb. If your school has signed up both modules, we would recommend you to INPUT student information and EXPORT SMS data via SMMWEB since this module captures all the student information as required in SMM3.02.
i) To export SMS data to SMM from SMS Basic Module, please go to School Management –> Data Export To SMM option.
Or
ii) To export SMS data to SMM from SMMWEB Module, please go to Maklumat Murid –> Data Export ke SMM option.
Step 2 – Import SMS Data to SMM4.0 
Step 2.1: On the SMM programe, go to menubar Import/Export->Sekolah->Import.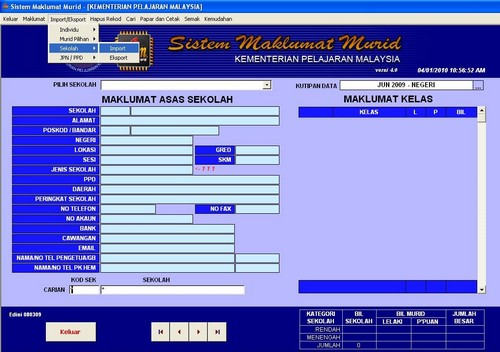 Step 2.2:  Insert floppy disk on A drive. and click on the "Import data dari disket A:\ ke dalam pengkalan data" button and click on "OK"  to proceed.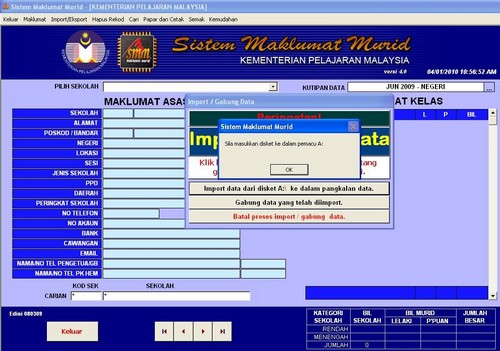 Step 2.3: Please ignore the warning messages and click "OK" button to continue. Warning messages alert user on the incomplete data being imported into SMM4.0.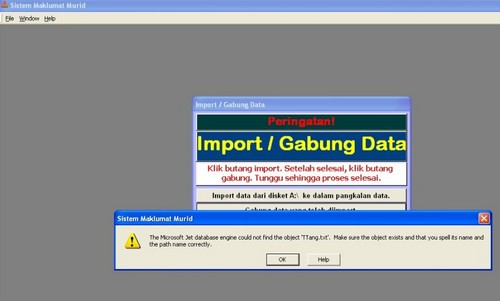 Step 2.4: Please ensure the SMS data are successfully imported into SMM4.0 with message " Proses Gabung Data Selesai" prompted.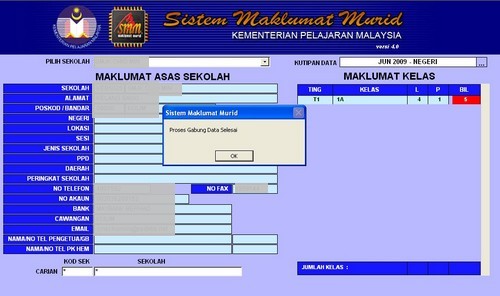 Step 3 – Edit Student information in SMM4.0
User is required to update additional student's data in SMM 4.0 which are not available in SMS before submitting to MOE.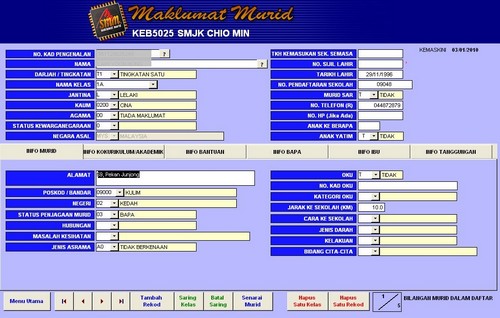 RSS feed for comments on this post