12 Dec 2008
We'd enhanced LMS to allow normal library user to surf library catalogue directly without logging into the system.  We would advise you to spare one library PC with browser homepage defaulted as LMS Library Management Index Page with URL link set as http://yoursmsaddress.com/lms/index-lms.php. With this, library user can just search library books on line easily. You may click on the link Library Information to view the detail screen captured.
Please take note that if your school is using SMS system with ASP Model where the libraries may be located at different campuses. Then, you are able to choose campus from the School list option in front page for library users to search the library catalogue from the desired campus' library.
To set http://yoursmsaddress.com/lms/index-lms.php as your browser homepage, for Internet Explorer, simply click Tools~> Internet Options then key in the address at the Home Page Address field as shown in screen below. Click "Ok" to submit the changes. Hereafter, every time you open your browser, your Library Management Index Page should be shown automatically.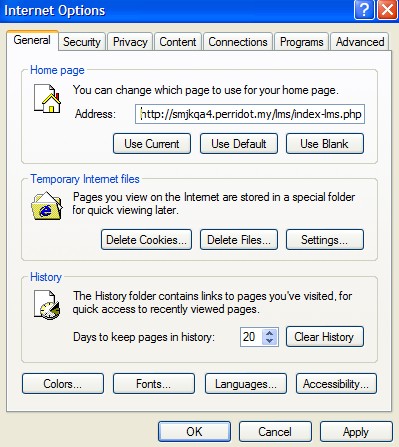 RSS feed for comments on this post