Archive for August, 2009
31 Aug 2009
For some reason, Google decided to release a new version of the Google Docs List API before adding the features to the interface. One of the most important new features is folder sharing.
I've used a Python library to test the new version of the Google Docs API and I've managed to share a folder. As you can see, the "play" folder from the screenshot displayed below has a new icon.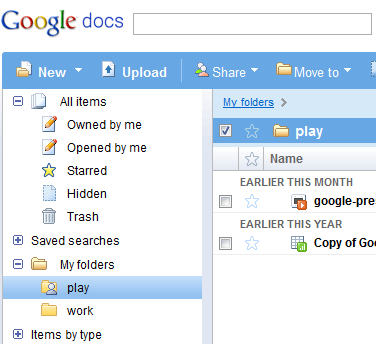 Unfortunately, the shared folder didn't show up in the collaborator's Google Docs interface, but he was able to find it by visiting this hidden section.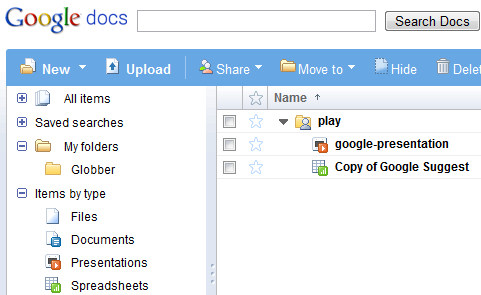 Sharing folders is more efficient than sharing a large number of files one by one and the best thing is that folders are treated just like documents. You can share folders as "read-only", but you can also allow collaborators to add new files and to edit documents.
For now, folder sharing is only available using the Google Docs API, but it will be added to the interface very soon.
Comments Off

on Folder Sharing in Google Docs
Filed under: Google Docs
28 Aug 2009
Google Docs is now integrated with Google Translate so you can translate documents directly from the word processor's interface. Click on the "Tools" menu, select "Translate document" and choose the destination language. Google will translate your document and offer two options: "Replace original document with this translation" and "Copy to new document".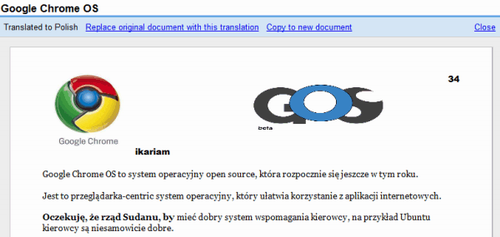 The problem is that in both cases there's no link between the original document and the translation. To better translate documents collaboratively, Google should integrate Google Translator Toolkit into Google Docs.
If you want to translate documents, but they're not stored in Google Docs, you can upload them to Google Translate.
Tip: Probably the best way to translate a web page, including a Google Docs document or presentation, is using the new Google Toolbar for Internet Explorer. Even if IE is not your favorite browser, you should try it because the Google Translate integration is brilliant. Unfortunately, you can't export the translation.
19 Aug 2009
In May, Gmail launched a feature that lets you import messages and contacts from other mail services like Hotmail, Yahoo, AOL. Google promised that the feature will be rolled out to all accounts, but it was only enabled in new accounts. The good news is that the feature is now available in all accounts and you can find it if you go to the "Accounts and import" tab from the settings page.
You may wonder if it's a good idea to use this service powered by TrueSwitch instead of Gmail's mail fetcher. Here are some differences between the two service:
* Mail importing saves to your Gmail account the existing messages from other accounts and continues to check for new messages only for 30 days. Gmail's mail fetcher downloads the existing messages and checks for new messages indefinitely.
* Mail importing saves to your account messages and contacts, while Gmail's mail fetcher doesn't import contacts (you can manually import contacts).
* Mail importing works for mail services that don't support POP3 (for example: the US version of Yahoo Mail), but the mail fetcher requires POP3. Mail importing supports a small number of popular mail services.
"Copying mail over usually takes a couple days, occasionally up to a week — but eventually it all arrives. And once it's done, you can forget your old account and enjoy having everything in one place," says Google, but I disagree. You'll import the old messages to your account, but after 30 days the service will no longer fetch new messages.
Comments Off

on Import Messages and Contacts from Old Accounts to Gmail
Filed under: Gmail