Archive for the 'Google Apps' Category
17 Sep 2009
Google Docs added the equation editor previously available in Knol. It's a basic LaTeX editor that's not very easy to use if you aren't familiar with LaTeX or programming.
Open a Google Docs document, click on "Insert" and select "Equation" from the menu. You can type LaTeX code or use the drop-downs to select Greek letters, fractions, integrals, functions, summations and other operators.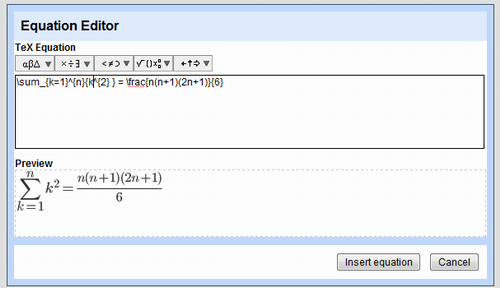 Google converts the code to an image using an undocumented feature of the Google Chart API. If you export the document as a Microsoft Word file or in a different format, Google Docs will only include the corresponding images.
If you know a better online LaTeX editor, tell us about it in a comment.
Comments Off

on Google Docs Has an Equation Editor
Filed under: Google Apps
28 Aug 2009
Google Docs is now integrated with Google Translate so you can translate documents directly from the word processor's interface. Click on the "Tools" menu, select "Translate document" and choose the destination language. Google will translate your document and offer two options: "Replace original document with this translation" and "Copy to new document".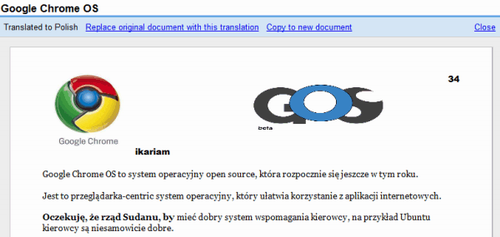 The problem is that in both cases there's no link between the original document and the translation. To better translate documents collaboratively, Google should integrate Google Translator Toolkit into Google Docs.
If you want to translate documents, but they're not stored in Google Docs, you can upload them to Google Translate.
Tip: Probably the best way to translate a web page, including a Google Docs document or presentation, is using the new Google Toolbar for Internet Explorer. Even if IE is not your favorite browser, you should try it because the Google Translate integration is brilliant. Unfortunately, you can't export the translation.
10 Mar 2009
Next time when you can't access Gmail, Google Calendar is down or Google Docs loads very slowly, visit the Google Apps Status Dashboard. Despite its the name, the page shows the latest status data not just for the Google services that are included in Google Apps, but for the corresponding consumer services as well.
"[The] page offers performance information for Google Apps services. Unless otherwise noted, this status information applies to consumer services as well as services for organizations using Google Apps."
Today's status for Gmail informs that "a small subset of users" couldn't access Gmail and that the service has been restored for most of the affected users in about 3 hours. "The rest of the users should be coming back online within the next 24-36 hours."
Looking back at the historical data, it's clear that the Google application which has the most issues is Gmail. Another Google service that shows a detailed status dashboard is Google App Engine and it would be nice to show similar information for other Google services.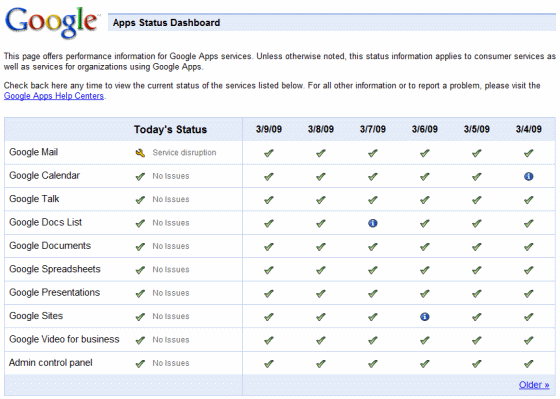 Comments Off

on Google Apps Status
Filed under: Google Apps