28 Aug 2009
Google Docs is now integrated with Google Translate so you can translate documents directly from the word processor's interface. Click on the "Tools" menu, select "Translate document" and choose the destination language. Google will translate your document and offer two options: "Replace original document with this translation" and "Copy to new document".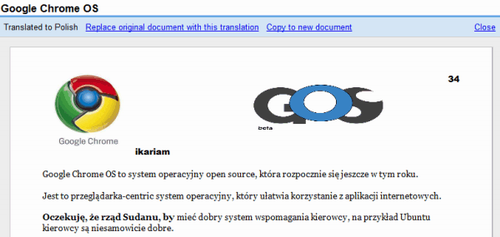 The problem is that in both cases there's no link between the original document and the translation. To better translate documents collaboratively, Google should integrate Google Translator Toolkit into Google Docs.
If you want to translate documents, but they're not stored in Google Docs, you can upload them to Google Translate.
Tip: Probably the best way to translate a web page, including a Google Docs document or presentation, is using the new Google Toolbar for Internet Explorer. Even if IE is not your favorite browser, you should try it because the Google Translate integration is brilliant. Unfortunately, you can't export the translation.
RSS feed for comments on this post