Archive for October, 2009
16 Oct 2009
Gmail Labs has a new experiment that lets you preview documents, spreadsheets and presentations created using Google Docs. If you receive a message that links to a Google Docs file, you'll be able to preview the document inside Gmail.
"Opening these links in another tab or window is kind of annoying, plus it can be tough to keep the context of the email in mind while viewing the document," mentions the Gmail Blog. Previews are displayed at the bottom of the message, so I don't think you can maintain the context.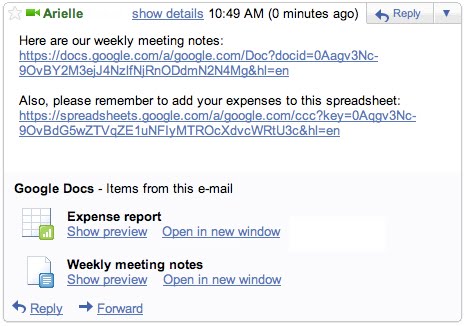 Just click "Show preview" and the contents of the document will display right there — no need to switch back and forth between email response and document.
To enable Google Docs previews, go to the Labs tab under Settings.
Gmail has 5 other experimental features that let you preview YouTube videos, Picasa Web and Flickr photos, Yelp reviews and voicemails from Google Voice, but I think these previews would be more useful if they were displayed inline, like Yahoo Mail's shortcuts or Interclue's tooltips.
Comments Off

on Preview Google Documents Inside Gmail
Filed under: Gmail, Google Docs
14 Oct 2009
Google Docs Viewer is a handy way to view PDF, PPT and TIFF files online, without having to install plug-ins or additional applications. Unfortunately, Google didn't make it easy to use the viewer without having to manually generate URLs.
A Greasemonkey script automates the process by replacing all the links to PDF, PPT and TIFF files from a page with links to Google's document viewer. To use the script, you need to install Greasemonkey in Firefox or use a dev build of Google Chrome. It should also work in Opera, Safari + GreaseKit and Internet Explorer + IE7Pro.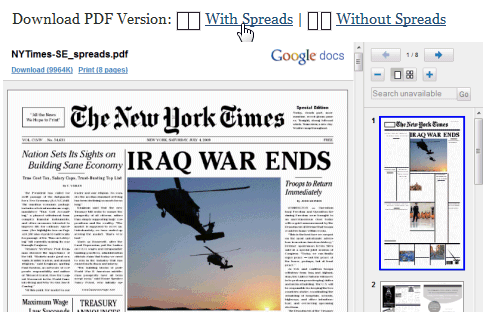 Hopefully, the future versions of Firefox, Chrome and other browsers will allow users to associate content types with web services, so that you can open KML files in Google Maps, iCal files in Google Calendar or Microsoft Office files in Google Docs.
Comments Off

on Use Google's Document Viewer to Read PDF Files Online
Filed under: Google Docs
12 Oct 2009
Google Docs has a new interface and an important new feature: sharing folders. You can now share folders with your contacts and even make some of your folders public. If you allow anyone to view or edit a folder, Google generates a publicly accessible URL for a page that lists all the files from your folder.
"When you share a folder, the new permissions are pushed to all sub-folders and docs within the folder. Normally this happens quickly, but occasionally, it could take a couple of minutes," explains Google.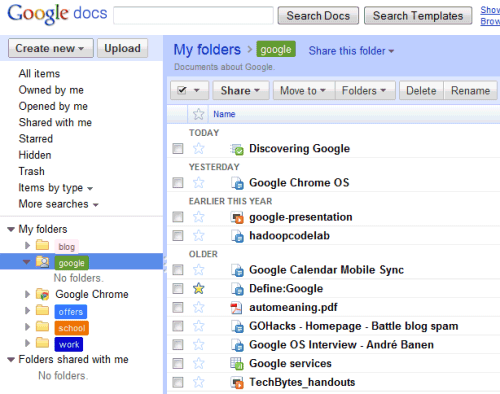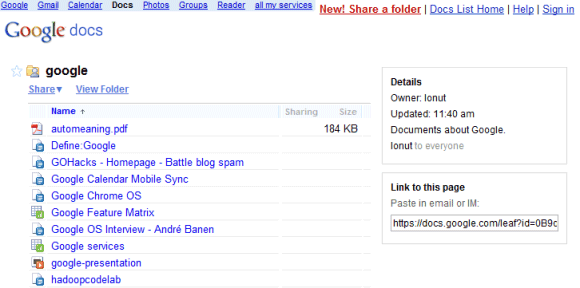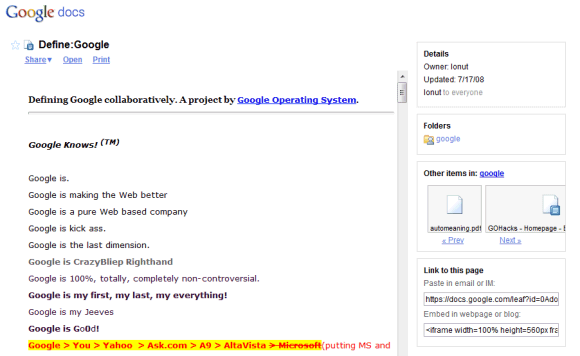 Another change is that Google Docs has a Flash uploader that lets you upload multiple files at a time and to place the files in a folder.