Archive for December, 2008
19 Dec 2008
What's the quickest way to create a new document in Google Docs directly from Gmail? If you enable "Create a document" in Gmail Labs and you activate keyboard shortcuts, you can press g then w to open a blank document.
The experimental feature adds a new option next to each Gmail conversation that lets you create a new document from it. Gmail merges the content of all the messages from the conversation and it removes the attachments.


From GMail Blog:
"More than once, I've had a conversation over email and later realized that the information contained in the messages would make a great starting point for a document. So I built an experimental feature for Gmail Labs that does just that: with one simple click, "Create a document" converts an email into a Google Docs document."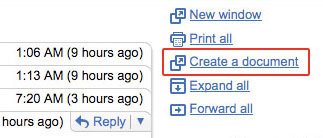 No more copying and pasting the text from your email — just open the message you wish to convert, click the "Create a document" link on the right side of the page, and voila, you have a brand new document which you can then modify and share!"
Comments Off

on New in Labs: Turn an email into a Google doc
Filed under: Gmail, Google Docs
14 Dec 2008
Google Calendar now supports several new features:
– You can now undo the last change you made to your schedule.
– You can now disable reminders for events that you haven't accepted.
– Events now show a visual indicator when all other attendees have declined.
– Event creators can now allow guests to modify the details of an event.
How to access what's new:
To undo your last action, click the 'undo' link in the change confirmation that appears near the top of the screen.
To turn off reminders for events you haven't accepted, click 'Settings', go to the 'Automatically add invitations to my calendar' section, and choose 'Yes, but don't sent event reminders until I have responded'.
To let guests modify events that you create, open the details of your event, go to the 'Guests can' section, and check the box for 'modify event'.
Comments Off

on Google Calendar add "Undo", event reminder options
Filed under: Google Calendar
9 Dec 2008
Google has added another Labs feature to Gmail: a quick todo list, a lightweight way to keep track of what you need to do, right from within Gmail.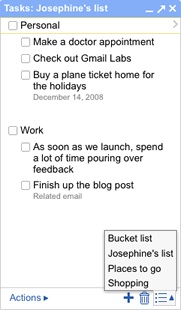 Take entering a new task: just click in an empty part of your list and start typing. No buttons to click and it's saved automatically. Hit Return and you've got a new task right there.
You can also easily convert emails into tasks: select one or more messages and go to More Actions > Add to Tasks. (Or turn on keyboard shortcuts and use <shift> + t.)

Google put your tasks in the same kind of window as chats, so they're visible while you're scanning your inbox, reading mail, or searching (and in Settings, too!). Just pop your list out into a new window to use Tasks outside of Gmail.
To enable Tasks, go to Settings, click the Labs tab (or just click here if you're signed in). Select "Enable" next to "Tasks" and then click "Save Changes" at the bottom. Then, after Gmail refreshes, on the left under the "Contacts" link, you'll see a "Tasks" link. Just click it to get started.
When Gmail reloads you will find a new link titled Tasks at the left hand side below the Contacts link. Click it, and a todo box opens in Gmail. You can now just click an empty area within it and start typing. For any given mail you receive, you can also pick "Add to Tasks" from the "More Actions" menu.
Tasks can be reordered using drag&drop, you can add due dates and notes, but you can't assign priorities, share your tasks or get reminders.