Archive for the 'Releases' Category
12 Apr 2010
We'd enhanced ASP Portal with adding Post Management Module. You can now directly post news, which include images and videos using WYSIWYG editor to ASP Portal. You may refer to How to Post School News/ Announcements using ASP Portal Post Management Module? on how to do it.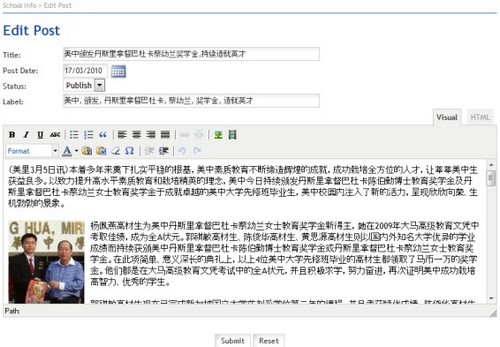 With this newly added feature, you now have two ways to post news in ASP Portal. For more details, please refer to our FAQ on How to publish schools news / announcement in ASP Portal?
Comments Off

on Post Management Module
Filed under: Releases
7 Jul 2008
We are pleased to announce that there are more features added to iSchool ASP Portal for both Parent and School Admin access to make the site more complete. The added features are :
1. The site is with multi-lingual capable now. Parent can select the preferred language to display. The available languages for selection are Bahasa Malaysia, English and Chinese.
2. Parents are able to read 5 latest School News online from the site. Besides, some local news headlines also available on line and that includes New Straits Times, The Star, Utusan, Berita Harian and Sin Chew Daily.
3. RSS feed feature is incorporated for parents to subscribe their own feeds into the portal. Besides, parents are able to view videos or photos uploaded to Youtube and Flickr by School Admin.
Comments Off

on New Features added
Filed under: Releases
12 May 2008

We had added a Live Weather widget where you can now view local weather conditions and forecasts provided by WeatherBug. You can also enjoy a great international weather service right on your desktop. Simply edit the settings to enter your local city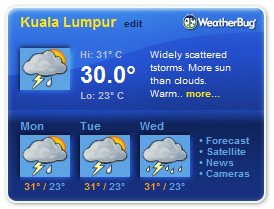 The list of available towns and cities having weather informations from Weatherbugs can be found on the list below: