Welcome to the Helpdesk section of iSchool Suite of products, here you can channel your support requests online via  http://support.perridot.com in addition to phone calls and emails. For security authentication reason, you will need to login to the customer's interface for submitting online request or viewing your existing issues.
On Line Helpdesk System
Our Helpdesk System is a Ticketing Request System where you are able to log support requests and check ticket status online. Whenever there is a support request, system will generate a unique ticket number. All relevant supporting documents can be attached and notes can be added as additional information to ease problem rectification process. The Customer Support representative shall assign to handle the support request and update the comment and sign off the ticket with auto email notification to customers. Customers are able to check on the tickets status online including closed ticket for reference.
We wish to highlight that ONE ticket is meant for a specific issue / problem /request and should be closed upon the resolution provided. For another issue / problem / request, please open a NEW ticket. Please also do avoid leading space while entering your email address, otherwise you will not accessible to the ticket detail via URL link as mentioned in our Post Reply.
Problem Resolution Process Flow
We have put in place the Problem Resolution process flow as shown in diagram below to exhibit the creation of ticket, various stages involved in the tracking of ticket until a satisfactory resolution is provided.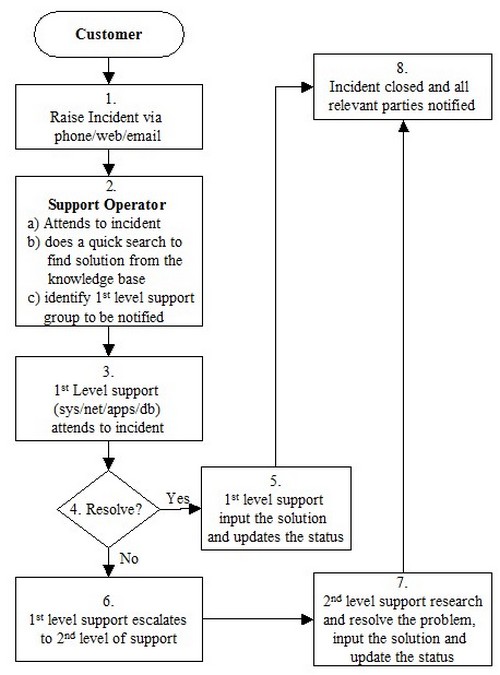 Each of the process involved is further elaborated as below:-
1. Problem Reporting
If the customer wasn't able to find the solutions on the Web-based support knowledge database, he/she can report issues on the Web. The software enables customer support representatives to response to customers timely and accurately.
2. Problem Tracking & Resolution
During the resolution phase, customer support staff will be more productive as a result of using helpdesk systems. Helpdesk systems can facilitate coordination of team work and assign support requests to proper support team members. Web-based help desk systems allow the support staff to keep track of frequently asked questions and answers. Creation of support knowledge base will reduce the needs of live customer support and promote the reuse of support knowledge database.
3. User Notification
When the issue is newly opened, escalated or closed, customers will be notified by emails. With this processes in place, customer is well keep atop of the stage of the incident reported.  Email notifications facilitate the communication between the support team and the customers. The customers are always kept well informed as to the progress of their requests. The email notifications are automatically generated when issues are resolved or updated by the support staff.
Benefits
By introducing the one-stop helpdesk system, we provide great benefits to all our customers including:-
Helpdesk System seamlessly integrates inquiries or issue logs created via email and web-based forms into a simply easy to use multi-user web interface.
Easily manage, organize and archive all you support requests and responses in a centralize place.
Customers are able to log issues from any location where they have access to an internet browser and check progress online.
Customers will receive automatic email notification on ticket status.
Clients will get better service and timely support through automated escalation system.
Helpdesk System – User Guide
To get started of using our online Helpdesk System, pls refer to the following guide for details:
– How to report Issue?
– How to check Ticket Status?
– How to update a Ticket?
– How to close a Ticket?
– How to log out from Helpdesk?