Archive for the 'Google Apps' Category
12 Mar 2007
By Victoria Ho
ComputerWorld Singapore
Following the Singapore launch of Google's enterprise web application service in November last year, it stands poised to win users in niche areas, despite the ubiquity of traditional software.
Smaller firms in Singapore with constrained budgets and those with no habits formed by using traditional applications will find Google Apps most appealing.
Springboard Research senior market analyst, Ravi Shekhar Pandey, sees take-up spread across three groups of users in the foreseeable future.
SMBs (small- and medium-sized businesses) in Asia not already using Microsoft Office would want to give this a shot, because they now have an alternative,he said. "Those already using MS Office may wish to incorporate Google Apps for specific tasks which require Google's sharing capabilities for lighter use."
Giving Springboard's own example, he said while the analysts will stick to Excel for its robust features, its sales team uses Google Spreadsheets for "collaborative marketing efforts across offices where we don't have to crunch a lot of numbers."
As for large businesses, he sees adoption only from the individual "not any corporate strategies, in effect".
This might lead to an eventual transition, however. Citing Salesforce's example of how it was first picked up by a work group, eventually catching on in popularity, Shekhar sees this as a possible way Google might find its foothold through corporate doors. Ravi thinks that Google is still pretty far away from replacing desktop applications, seeing its web applications as a complement to existing systems, if not just a cheaper alternative.
From an Asian perspective, I think you will see two waves' new user adoption could be higher as many countries are still computerising and Google offers a practically zero-cost alternative, but existing users will probably be slower as they prefer the existing security and features, and they won't have to deal with bandwidth issues, he said.
Globally, some 100,000 companies have signed on for its paid, premium service. Although Google seems far away, its offering may be just what smaller Asian companies need.
Google Apps Premier Edition builds on the previously released, free web application service hosted on the customer's domain, and comes bundled with document and spreadsheet editors, in addition to its immensely popular email client and calendar.
The Premier Edition offers 10GB of storage per user and a 99 per cent uptime (for GMail, not the others) guarantee, for US$50 (S$76) a year.
While Google's advantages lie in its familiarity and brand name, it isn't robust or secure enough to support a large organisation's needs. However, smaller cash-strapped companies might find it a boon, and just enough for their needs, wrapped in a very affordable package.
The price is right
Tiong Ting Ming, IT advisor at SMJK (Sekolah Menengah Jenis Kebangsaan), which controls 78 schools in Malaysia, faced a number of obstacles to upgrading its schools' IT infrastructure. The students wanted a way to share documents, have personal school email accounts and be connected to the school system for homework updates.
But funding was the biggest obstacle. Since the school group's IT relied on the charity of external parties and organisations, it was not about to upgrade its entire hardware architecture. In fact, Microsoft licences for its Office suite were beginning to be a problem, and the school turned to its open-source counterpart, Open Office, instead.
However, Open Office required computing power they couldn't spare. SMJK's computers, mostly Pentium IIIs, were unable to handle the software, either crashing or behaving very sluggishly.
So Tiong turned to Google Apps Educational Edition, a free version giving them 2GB of storage per user and a pledge from Google to supply 200,000 email accounts, after they wrote to Google with a plea.
Tiong estimates these accounts will last the organisation approximately five years. More importantly, he estimates this set-up will cost a mere eighth of an otherwise large expenditure of around US$3 million-US$4 million with a traditional desktop software set-up.
When interviewed, he didn't seem to think that latency issues were of significant concern. However, his organisation does not require quick response time from its applications. Since the majority of users will be students, who are used to the free GMail, this is likely to be easily accepted.
"In the past, you would have felt something amiss if you didn't store your document on a physical diskette. But these days, in a networked environment, we are much more accustomed to saving something "invisibly" on a network drive, he said.
What's the difference between saving it on a network drive and saving it "somewhere" on a server? Students don't feel it odd; it is just a change in mindset, he said.
Ovum's principal analyst, David Bradshaw agrees. He said the lingering fear that somehow your data isn't secure if it isn't on your systems in your building, is fast growing outdated. He thinks the security one feels with having physical storage is merely artificial since data can still be stolen regardless of where they are stored.
A big user experience shift
It will take time, however, not just to change mindsets about latency and storage issues, but also that of working exclusively on a web application.
Hong Kong-based Sanden Electronic Equipment went through a few teething problems of the same nature when it first started out. Thomas Fung, its engineering manager, recommended a gradual approach to getting the organisation to turn around.
GMail was more popular, compared with the other applications, which were slow on the take-up. Calendar was next, because it was more integrated with GMail's interface, and only after sometime did the staff use Docs, spreadsheets and the start page.
I expect it takes time to change people's habit from using desktop software to online software, he said.
Steve Hodgkinson, research director also at Ovum, regards user willingness to move as an evolution issue, saying that Google's offerings are "designed for a new generation of users who are growing up with always-on broadband and will be comfortable with web applications."
Nonetheless, he is waiting for Google to step up its game and "evolve over time to plug gaps like presentation software." He sees that the movement over to web applications might take the form of a phased transition rather than a wholesale dumping of desktop software. Big processor loads such as graphic manipulation and games will remain a mainstay of desktop software, he said.
Best effort won't cut it
Although Google offers 99 per cent uptime on GMail for its Premier Edition, that's exactly what it is only GMail. The other applications don't enjoy the same assurance. When you have problems accessing company documents with no written clause to assure uptime in that respect, this won't be accessible to the medium- and upward-sized business.
In an interview, Kevin Gough, product manager at Google, explained that the company uses its own products to power its enterprise.
Google already handles billions of dollars of financial transactions. Google itself is a large publicly-traded company and under strong financial scrutiny. We are on the same systems as our customers, the same exact standards and versions, he said.
Comments Off

on Computerworld – Google Apps finding a niche in Singapore
Filed under: Gmail, Google Apps
6 Dec 2006

Google today announces that it is providing Egypt's Ministry of Higher Education the ability to offer the university's 3 million students and Ministry of Education's 8 million preparatory students Google applications for email, instant-messaging, and calendar.
As part of Google Apps for Education, Google's set of hosted communications services, Gmail, Google Calendar and Google Talk will be free of charge to all 11 million students across the region from December 3rd, 2006. The system brings many benefits to students in Egypt, including 2 gigabytes of email storage per student, powerful search capabilities to help locate important messages, enhanced spam filtering, and calendars that can be easily shared with friends and across groups.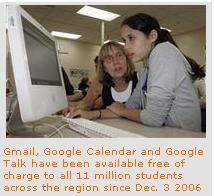 Both Egyptian Ministries are the first organisations to implement Google Apps for Education in the region. "We are delighted to be able to offer our students access to Google's unique suite of communication tools," says Dr. Hany Helal, Minister of Higher Education. "We believe that strategic alliances with technology leaders like Google are key to accelerating the contribution that technology can make to the education in Egypt." "We are very excited about this collaboration with Google" says Dr. Yousry El –Gamal, Minister of Education, and "it will encourage all preparatory school students to use the internet as well as give them a sense of belonging to an online student community."
Dr. Eric Schmidt, Chairman of the Executive Committee and Chief Executive Officer, Google says "As a company, it has been our mission to provide greater access to the world's information, including personal information. We are delighted that our communication and collaboration tools will enable millions of students in Egypt to keep track of class and activity schedules and stay in close touch with their classmates and teachers. By using Google Apps for Education, Ministries of Education and Higher Education can focus on more pressing technology projects that benefit the school and students."
Beginning December students logging into the current student email system will be presented with the option to begin using the new services from Google immediately. The service does not require installation or maintaining of any additional hardware or software.
The Google Apps for Education platform, which is hosted by Google and available to users via any web-connected PC, includes the following services:
Gmail – This web-based email program provides 2 gigabytes of storage, powerful spam filtering, and search tools to help users find information quickly. The Gmail interface includes instant messaging right from within your messages and contact list. POP is available for users that would like to send and receive mail from a desktop application rather than Gmail's web interface. Gmail is available in 40 languages. Google Calendar – This online calendar program makes it easy for people to organize the events in their lives and to share their schedules with others. Google Calendar helps people set up appointments with each other and even publish events on the web. Calendar is available in 17 languages.
Google Talk – This free download lets users conduct PC-to-PC voice calls and send instant messages to each other for free. Google Talk is available in 14 languages.
Google Page Creator – This what-you-see-is-what-you-get web page authoring tool lets domain administrators build simple web pages for their domain, and publish them to the web even if they don't have any website building experience. Page Creator is available in US-English.
Original Story Link – http://business.maktoob.com/educationnew.asp?id=20061207052249