21 Jan 2007
The Star, 21 January 2007
Among the top schools in the country, there is a buzz of excitement. They are now competing to be one of the 300 "cluster schools" which will give them some autonomy in running their schools and developing areas of specialisations.
SM TEKNIK Tawau in Sabah has the honour of being the first cluster school to be identified under the Education Ministry's National Education Blueprint 2006-2010.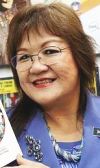 Although the school is known for its Information and Communication Technology (ICT), super principal Mary Yap (right) is also looking at improving in other areas like co-curricular excellence.
With this mission in mind, she will convert every Tuesday into a co-curricular day. And no one will be spared. The principal, teachers and students will participate in aerobics first thing in the morning.
"If we want the students to be fit, we have to lead by example, so what better way than to get everyone involved.
"After the aerobics, the students will join their clubs or participate in other sporting activities," she says.
This means the school day on Tuesday will be extended from 12.30pm to 3pm to accommodate the first two periods for aerobics and co-curricular activities.
"We've got the blessing of the Parent-Teacher Association to do this," she shares enthusiastically while waiting to board the plane from the KL International Airport after listening to Education Minister Datuk Seri Hishammuddin Tun Hussein's New Year message on Thursday.
A torch run will be held on Jan 26 to mark the inaugural Co-curricular Day.
Yap is acknowledged for transforming a struggling school into an excellent one after being inspired by a school in Malacca.
"It really opened the eyes of the teachers on how things could be done. Now we want our school to be used as a benchmark for others," she shares.
When Hishammuddin visited the school last April, he said he was amazed at the leadership and management of the school and announced that it would be made a cluster school.
Best practices
The cluster school initiative can create a platform for schools to share their knowledge and best practices, says Tiong Ting Ming, principal of SMJK Dindings, Lumut, Perak, one of the leading schools in ICT in the country.
"We have built our ICT infrastructure internally and with minimal funding. SMJK Dindings fulfilled the criteria to be a model school in ICT, and can be a benchmark for other schools. Our experience can help others," he explains.
Says Tiong, his school was initially nominated by the Perak State Education department but now it has to wait for the final decision since the application is open to all.
"I am very proud of my school's achievements. There are not many ICT model schools like this in our part of the world," he adds.
All for autonomy
A principal in a special education school is happy that cluster schools have more independence in choosing its teachers and students, as well as be able to raise additional funds to finance its programmes.
"If we are selected as a cluster school, I hope that we will be able to upgrade our physical facilities as we are quite an old school.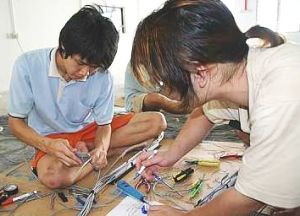 SMJK Dindings students helped put in the cabling when they built their ICT equipped building.
"I also hope our teachers will have more opportunities to be sent abroad for training to upgrade themselves," she says.
The school wants to focus on music for blind students as well as excel in goal ball and athletics.
"I hope to get a coach from abroad to train our students for competitions at the international level as we are already the national champions in goal ball. We also have two students who recently won gold and bronze medals in athletics at the Fespic (Far East and South Pacific Games Federation) Games for the disabled hosted by Malaysia last year."
All for autonomy
A principal from a Chinese school in Penang says his school has applied to be included in the cluster school programme.
"I submitted two proposals last year. We are now waiting for word from the ministry," he adds.
Having more autonomy in managing the school is one of the factors that attracted him to join the programme.
"If I get to choose who to hire, I will want to hire the top teachers to teach my students. We are also keen on producing all-rounders and want to place emphasis on both physical and mental development, aside from academic excellence.
Autonomy is what attracted the principal of one of the top girls' schools in the Klang Valley to seek the status of cluster school.
"I want to be able to select the good students instead of taking in those selected by the state education department. Having more autonomy would also mean we have control over the subjects offered. Now we have to get permission if we want to make any changes," she says.
The principal of a boys' residential school says having more autonomy would enable him to have more streams at the school.
"Of course, we will need to get the agreement of the Parent-Teacher Association but it would be nice to be able offer more than science so that students have more options to choose from," he adds.
More facilities
Bukit Jalil Sports School (BJSS) may be ahead of most schools in sporting equipment and facilities, but being selected as a cluster school will enhance the school's sports achievements, shares a teacher there.
"We already have many benefits as a sports school but once we become a cluster school, we will get better infrastructure and trainers," he says.
BJSS caters to athletes from 28 sports and can take up to 600 students.
Plans for a sports school in Perlis is currently underway and is expected to be ready some time in 2008.
It would be the fourth sports school in the country after Bukit Jalil in Kuala Lumpur, Bandar Penawar in Johor and another one in Pahang.
In addition, there are schools designated as part-time sports schools or Sekolah Sukan Sambilan, which specialise in specific sports. Selected students can transfer to these schools, which include SM Anderson, Ipoh, for hockey and SM Victoria, Kuala Lumpur, for rugby.
Original story – http://thestar.com.my/education/story.asp?file=/2007/1/21/education/16616697
RSS feed for comments on this post