4 Nov 1999


Original Article Published in CNET Asia, Nov 04, 1999
by Julian Matthews, Malaysian correspondent
LUMUT, Perak–If a school can be described as four walls with the future in it, then the Dindings National-Type Secondary School in rural Perak has confirmed its place in the new millennium.
Situated 95km from the nearest city Ipoh, the school is mostly made up of wooden buildings and wedged between a palm oil estate and a coconut plantation.
But running under the floors and in conduit piping along the corridors are Cat-5 networking cables inter-linking 70 PCs in the classrooms, the library, the staff room, the administration office, the science labs and computer labs. Every room has RJ-45 connectors that gives it instant access to the Internet on a 64Kbps leased line.
The school was wired almost entirely by its students who manage and administer the Redhat Linux 6.0 powered-server which houses their mail server, Apache web server, proxy server, newsgroups and Internet Relay Chat. "All my 690 students have their own email, can design homepages and do Linux, Unix and C programming," said principal Tiong Ting Ming, 47. Students in the school range from 13 to 17 years of age.
Ironically, the school is not part of the 90 schools chosen as part of Malaysia's Smart School Program which has been sharply criticized by the opposition for delays and faulty courseware.
Tiong spent seven years cajoling local corporations and benefactors to provide funding to transform the school into a network-ready environment for his students. Total investment currently amounts to RM1.8 million and major sponsors include Sapura Holdings, Mimos, Thomas & Betts and the Ministry of Education.
Tiong's dedication earned the school its latest sponsor–networking giant 3Com Corp. 3Com Wednesday showcased the school as one of only two schools in Malaysia and 30 in Asia that are part of its global NetPrep program to provide students network management skills training.
3Com which organized the media tour donated RM32,000 worth of networking equipment and together with Universiti Tun Razak, will initially train a core group of 10 boys and four girls.
Students who complete the course will be certified by the International Association of Communication Systems Engineers.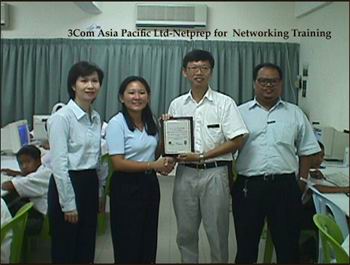 3Com Asia Pacific education and training manager Daphne Tham said: "We are preparing students of today for the workforce of the 21st century." About 200 schools and tertiary institutions worldwide have joined the NetPrep program.
Tham said 3Com was wary of the program being positioned merely for elite schools and Dindings was a prime example of its reach even in rural areas.
Principal Tiong said his mission is not just to impart knowledge from textbooks but to create a "Net culture" where students will be attuned to self- and life-long learning and retain this trait beyond school walls. "The Internet is their future, educating them to be responsible Net citizens has to start now," he said.
This year, the radical principal yanked biology as a subject from the curriculum and replaced it with information technology. Next year, IT will be offered as an exam subject for the first time for the year-end compulsory government examinations.
"Next month, my students will also install and commission a fibre-optic backbone from the school to the primary school and kindergarten next door," said Tiong who plans to raise the student-to-computer ratio from the present 12:1 to 5:1 and add a 128Kbps ISDN Internet link-up soon.
Student Ho Guan Hwang said: "When my principal told us four years ago he was going to wire the school, I had my doubts. Today I know about the Net and can learn how to install fiber cables and have networking and programming skills. All this is so expensive to learn. We are very lucky we can do this in school."


Note: Published in CNET Asia, Nov 04, 1999
by Julian Matthews, Malaysian correspondent
RSS feed for comments on this post