Google Apps is a service from Google for using custom domain names with several Google products. It features several Web applications with similar functionality to traditional office suites, including: Gmail, Google Calendar, Talk, Page Creator, and Docs.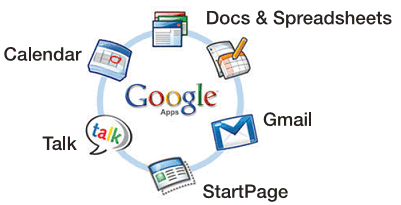 Google Apps Education Edition
Google Apps Education Edition is a broad IT solution that schools can use to bring communication and collaboration tools to the entire academic community for free. Google manages all the technology details, so you can focus your time, energy and budgets on teaching your kids. Students, teachers and staff can share ideas more quickly and get things done more effectively when they have access to the same powerful communication and sharing tools.
Google Apps Education Edition lets tech administrators provide email, sharable online calendars, instant messaging tools and even a dedicated website to faculty, students and staff for free. There's no hardware or software to install or maintain, since everything is delivered through a standard web browser — anytime, from anyplace.
Read more on Google Learning Centre's Overview on Google Apps (Open in new browser window in Macromedia Breeze)
You can mix and match from the following services for your entire school :

Gmail – Offer email to your faculty, students and staff with 5 gigabytes of storage per account, at the time of this write-up, search tools to help them find information fast, and instant messaging built right into the browser (chat can easily be disabled for the whole school if you don't want students to be able to IM with their accounts). Read more on our Online Resources site

Google Talk – Teachers and students can call or send instant messages to their contacts for free — anytime, anywhere in the world. Imagine the possibilities for people collaborating on projects from different locations. Read more on our Online Resources site

Google Calendar – Everyone can organize their schedules and share events, meetings and entire calendars with others. You can even publish the school calendar on your website to let families know about events like back-to-school nights, homecoming and vacation days. Google Calendar also includes notification of calendar events via email, or Short message System (SMS) on mobild phone. Read more on our Online Resources site

Google Docs – Students and teachers can create documents and spreadsheets and then collaborate with each other in real-time right inside a web browser window. Also available is the new Presentations, a Microsoft Powerpoint-like of presentation tools. Read more on our Online Resources site


iGoogle (formerly Google Start page) is a customizable homepage originally launched in May 2005. It includes the capability to add web feeds and Google Gadgets (similar to those available on Google Desktop).
Google Page Creator – Create and publish web pages for your domain quickly and easily with this what-you-see-is-what-you-get web design tool. No technical expertise required.