7 Mar 2009
More and more people have started using forms to collect information from their co-workers and customers. To contrast these more "practical" uses, I thought that I'd share three fun surveys that you can send to your friends: one for Star Wars and Star Trek fans, another that lets you find out what your friends think about you, and one with 18 totally random questions (just because).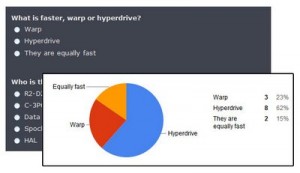 After your friends submit their answers, you'll be able to see nifty summary charts like the one above. According to my friends, hyperdrive is faster than warp. Would your friends agree?
For those of you who haven't used forms before, here's how to get started:
Preview the three surveys below and choose one.
Customize the survey with a personal message and even add your own questions and answers.
Email the survey to your friends.
Sit back and watch as the results come in.
By default, your friends will be able to see each others' responses as well, but you can change this setting before sending out the survey if you'd like.
For those of you that would like to create a form from scratch, you can go to your Docs List and click
New > Form
.
Have fun with these forms.
RSS feed for comments on this post