14 Aug 2008
Upon receiving notification letter, you must log in at Gmail site, http://mail.[mydomain].edu,my eg. mail.sekolah.edu.my to activate your Google Apps account.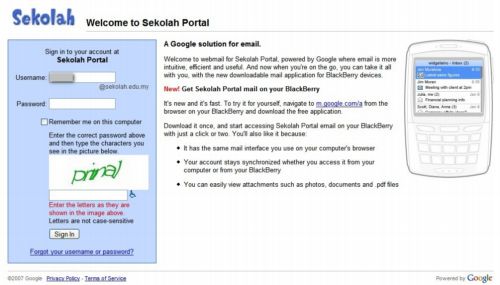 You must change your password and go through the Terms and Condition page. Please key in mapping text that appears on a small "Graphics" to again prevent a robotic submission act. User must read the text on the graphics and manually key in the equivalent. Once this step is completed, only the Google Apps account can be activated and be used. Please take note to replace [mydomain] with your actual domain.
Upon activation of Google Apps account successfully, please use the same username and password to log-in your iSchool project sites, you are now able to participate and manage the sites as per access given to you.
RSS feed for comments on this post