25 Apr 2008
Google Docs Blog mentions that everyone who uses the English interface should be able to view and edit documents offline. "When we first announced offline access several weeks ago, it was limited to viewing and editing word processing documents. Now, we've added view-only offline access to spreadsheets and presentations as well."
You should now see an "Offline" link in the upper right hand corner of Google Docs.
You won't need to worry about an unreliable internet connection as you walk up to the front of the room to give your next presentation. Just click on your Google Docs desktop icon and know that your presentations and spreadsheets will be stored on your computer, at your fingertips.
When you open up Google Docs, you should see an "Offline" link,

click on the link and you should see the following screen, asking you to confirm the installation for offline access,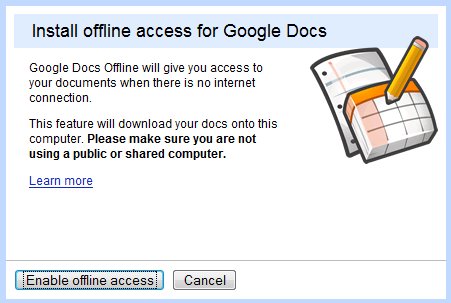 and further confirmation for Google Gears to access the Google Docs,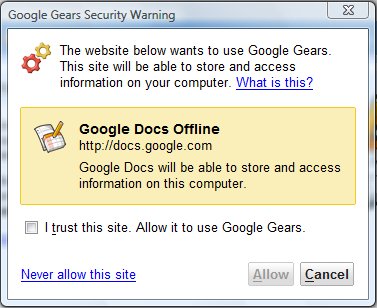 and the final step of synchronizing documents, once Google Gears is successfully activated.


To learn more about offline access, check out our Help Center.
RSS feed for comments on this post