17 Mar 2008
If you create a new document with Google Docs and edit it for a while, different snapshots of your document will be saved into the revision history for this document. Perhaps at some point you consider your document to be in a state where you want to share it with someone else. Hitting the Share tab and inviting a collaborator, the collaborator will be able to see your latest version of the document.
However, note that your collaborator will not merely see the latest version of your text; they will also be able to switch to the Revisions tab of the editor and check older versions of your text before you shared it. Potentially, some of the older snapshots may contain things like comments you then considered to be inappropriate for the document, or accidentally pasted private text. This includes versions of the text which you did not actively save, as Google Docs features auto-saving.
In the screenshot below, I shared a document with the sample user officehacks@gmail.com, marking all the versions of the text since the time of sharing in green. As you can see, the older versions outside the green area are still existing, and can be viewed in full.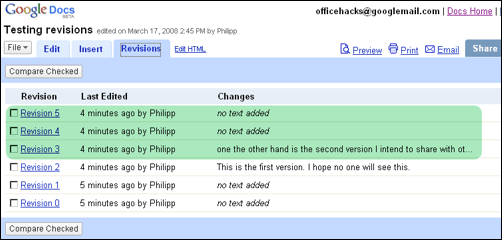 To avoid this behavior of Google Docs – in case you want to avoid it (as there may be cases where you are happy for the other person to utilize the full revision history) –, make a copy of the original document before sharing it. You can then give the old document a name like "Backup of Foobar", and then give the new document the original name of the old one, like "Foobar." (By doing so, you will be losing accessing the old revisions from within the new document, though you can still find them in the backup should you need to.) Sharing just the new copy with your collaborator ensures the revision history will be "cleared."
RSS feed for comments on this post