18 Dec 2007
Google launched translation bots for a lot of language pairs, even more than the ones available at Google Translate. To use them in Google Talk or in any other IM client that supports Jabber, you need to add one of the bots as a friend, start a conversation with the bot and enter the text you want to translate. Google's bots have a simple format for addresses:
[original_language]2[destination_language]@bot.talk.google.com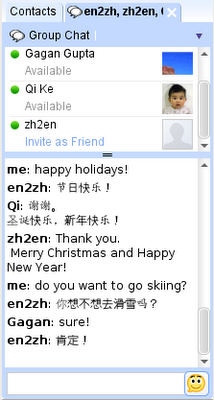 If you want to try it,  to translate English text in Chinese, add en2zh@bot.talk.google.com as a friend in Google Talk and send it a message to translate from English to Chinese. You can use it as an interpreter in your group chat, or as a pocket translator in your Google Talk client for BlackBerry.
Here's the list of languages pairs and you'll notice many new pairs, displayed in bold below:
ar2en, en2ar (Arabic<->English)
bg2en (Bulgarian->English)
de2en, en2de (German<->English)
de2fr, fr2de (German<->French)
el2en, en2el (Greek<->English)
es2en, en2es (Spanish<->English)
fi2en (Finnish->English)
fr2en, en2fr (French<->English)
hi2en (Hindi->English)
hr2en (Croatian->English)
it2en, en2it (Italian<->English)
ja2en, en2ja (Japanese<->English)
ko2en, en2ko (Korean<->English)
nl2en, en2nl (Dutch<->English)
ru2en, en2ru (Russian<->English)
uk2en (Ukrainian->English)
ur2en (Urdu->English)
zh2en, en2zh (Chinese<->English)
Tip: To quickly launch Google Talk without any installation, you can bookmark talkgadget.google.com/talkgadget/popout in Firefox. Now go to your bookmark properties by right-clicking the bookmark. In the keyword field enter "talk" (no quotes). Next time, you can just enter "talk" into the browser address bar to launch the chat.
RSS feed for comments on this post