4 Dec 2007
Google had launched a new feature for Gmail — Colored labels. Now you can set color for each Gmail label. The labeled email messages will be marked by the label text and color.
You can now organize your email better with new colored labels. Just click the color swatch next to each label to assign a color.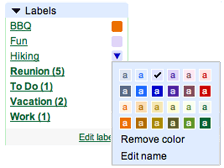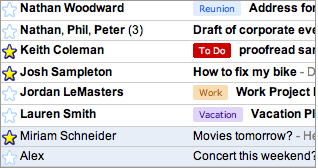 There are two ways to edit a label.
You can:
Click Edit labels at the bottom of your Labels list.
Click rename next to the label you want to edit.
Enter the new label name, and click OK.
Or you can:
Click the square to the right of a label in your Labels list. A color palette opens.
Select Edit name at the bottom of the palette.
Enter the new label name, and click OK.
All the messages categorized under your old label name are now categorized under your new label. And, if the label you've edited is part of a filter, Gmail automatically updates your filter settings so new messages are categorized with the new label's name.
Learn the basics of using labels to better organize your mail. View a brief demo (requires Macromedia Flash).
Note: Colored labels, group chat and rich emoticons only work in the latest version of Gmail, currently available for Internet Explorer 7 and Firefox 2. Please upgrade your browser to take advantage of these new features:
RSS feed for comments on this post