14 Oct 2008
During blogs creation, sub-blogs group will determine what are the menu/pages that will be pre-created for the blog and also how sub-blog are grouped in sub-blogs list page/post. However, blog admin may want to change the sub-blogs group afterward if he/she has assigned the group wrongly.
Now, we'd enhanced WP Portal with iSchool Sub-blogs group maintenance page, which allows iSchool blog admin to easily edit existing sub-blogs site category and sub category by going to iSchool Blog Admin ~> iSchool Blogs Edit.
Please take note that the changes of sub-blogs group will only be reflected in sub-blog list page/post, posts and pages of the blogs will not be affected.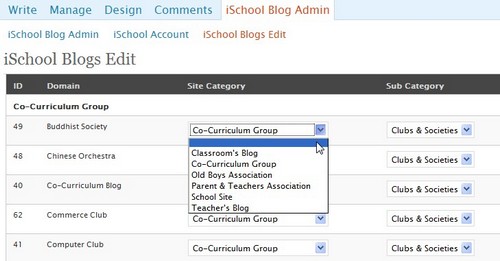 For more detail on how to perform sub-blogs group maintenance, please refer How to Maintain Sub-Blogs Group.
RSS feed for comments on this post