Archive for June, 2008
13 Jun 2008
If you created many calendars in Google Calendar and you want to download them so you can view them in a desktop client, there's a simple way to export all the calendars. Just open https://www.google.com/calendar/exporticalzip and you'll get an archive that contains your calendar data.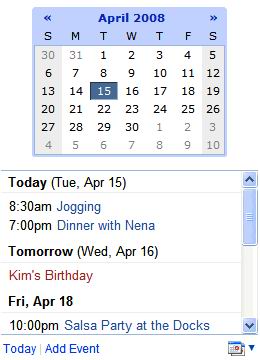 "In the resulting compressed folder, you'll see an ICS file for each of the calendars to which you have permission to make changes and manage sharing. Note that this method will not export calendars in your Other Calendars list (e.g. public calendars you've added to your list, shared calendars with view access only, etc.)," explains Google.
If you use iGoogle to view your calendars, it's good to know that there's a new version of the Google Calendar Gadget that uses infinite scrolling for the agenda and it shows event descriptions without opening a new page. Like in the previous version of the gadget, you can select multiple calendars to view them on your personalized Google homepage.
12 Jun 2008
Google Docs has recently added an option to save advanced searches. Besides showing the list of saved searches in the sidebar, Google Docs creates an iGoogle-like page with containers that include results for each of your saved searches. You can reorder the containers using drag and drop and select the maximum number of results.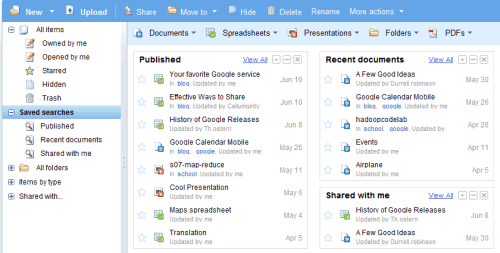 Depending on the way you use Google Docs, the dashboard is a great opportunity to group related documents, see a list of recently published documents, display the content of a folder or the documents shared with you by a collaborator.
To create a new container, click on "Show search options", build your query and click on "Save this search". A simple example of container shows all the documents from the "School" folder that have been shared with you:

The customized views can be edit or deleted from the sidebar. While the dashboard can't be configured as a start page, bookmarking http://docs.google.com/#home is a fast way to access it.
Comments Off

on A Dashboard for Google Docs
Filed under: Google Docs
11 Jun 2008

After allowing people to collaborate on documents, spreadsheets and presentations, Google Docs will support a new file type: PDF. Judging from Google's code, PDFs will have a distinct section and won't be imported as Google Docs documents.
An icon for PDFs has been available for a while and when you visit http://docs.google.com/#pdfs, Google Docs informs you that there are no PDFs in the list of documents.
"Since becoming one of the original Gmail and Google Docs users way back in the beta-beta days, it has been a continuing source of confusion and irritation to me that we STILL can't even upload PDFs to Google Docs. (…) For those of us with laptops and iPhones it would rock to offload as much as possible onto the web and having sharing capabilities with our clients and colleagues for ALL our docs, not just a select few. In the professional, business, and government communities, PDFs are the transmission document of choice," commented JAVA4DIVA in a thread from Google Docs group.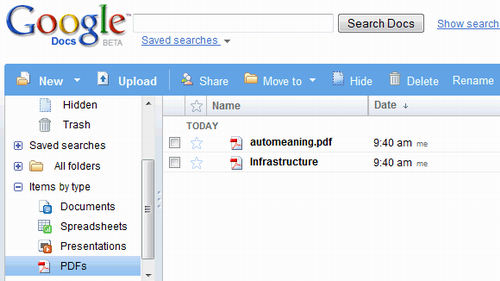 You can now upload PDF files, share them and view them online. The PDF viewer is not very advanced, but you can use it to search inside a PDF file, select a block of text (Ctrl+C to copy the text) and go to a certain page.
vis Google Operating Systems
Comments Off

on Upload PDF Files to Google Docs
Filed under: Google Docs